Creating high-quality content is critical for most businesses to achieve their objectives. B2B marketers, on the other hand, will tell you that lead generation is the ultimate key to success. You can generate more leads that are easily converted into sales by running a successful B2B lead generation campaign.
What is a B2B Lead Generation Campaign?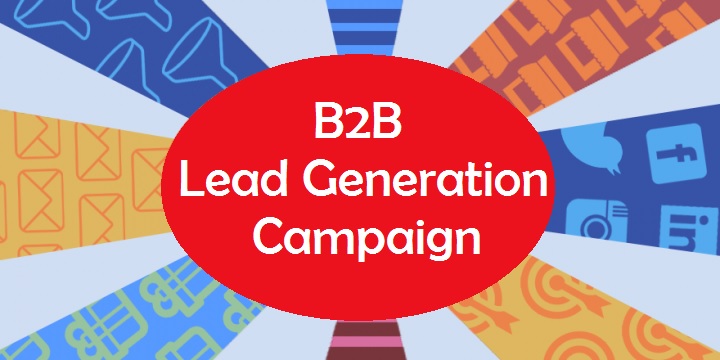 The primary goal of creating a campaign is to generate more leads. To gain your audience's trust and exchange their contact information, it must be appealing, convincing, and educating. If the campaign is a success, it will provide numerous opportunities for your brand to reach out to more potential customers.
Some people, however, believe that a great campaign will automatically increase sales. But things don't work that way; successful campaigns are accompanied by marketing strategies, tactics, and tools. Furthermore, you must devote a significant amount of time, effort, and even money to measuring the progress and success of your campaign.
How to Create a Successful B2B Lead Generation Campaign?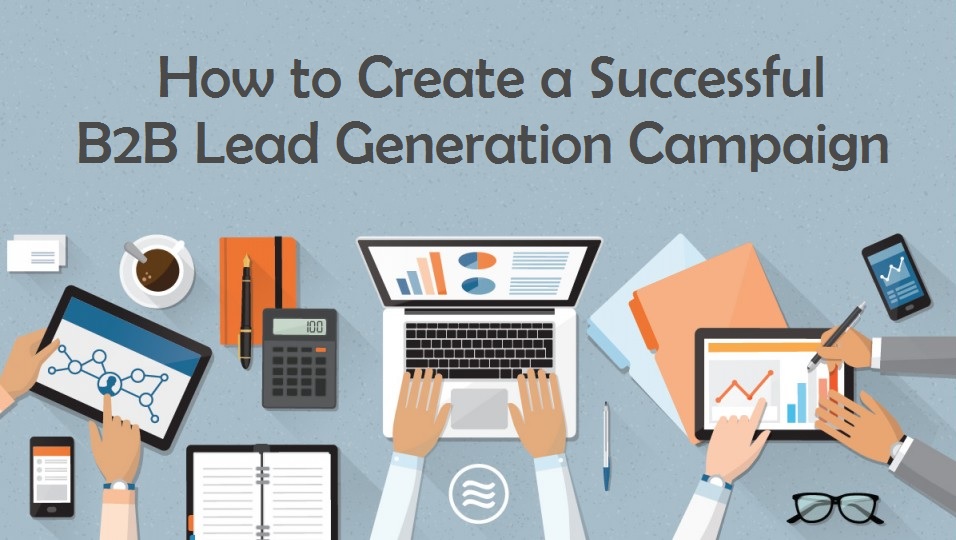 When planning a B2B lead generation campaign, make sure you have a clear vision, objective, and target audience in mind. The success of your campaign is also dependent on the media or platform you use to promote it. Your business will thrive if you can master lead generation through an effective plan.
Here are a few ideas for a successful campaign:
01. Establish your Campaign Objectives
The success of your campaign is determined by the objectives you wish to achieve. You'll have a clear plan to prioritize if you define your objectives clearly. You can begin by estimating the number of leads you expect to receive from the campaign as well as the potential income you will earn.
Then you can proceed by attempting to answer various questions that will be relevant to the success of your campaign. Some of these questions include, "What will you offer to your prospects?" How will you track the campaign's progress? When will you be able to declare your efforts a success?
02. Identify your Target Audience
Aside from categorizing your audience by industry, location, or job title, it's also a good idea to include their goals and pain points. This data allows you to create more accurate buyer personas. Make at least 5 examples and create targeted content for each one as much as possible.
You can use surveys or interviews to get clear answers from prospects, customers, and the sales team when gathering information. You can find contact information on social media platforms such as LinkedIn, Facebook, and Instagram.
The most important thing to remember is that your campaign must build long-term relationships with your customers. Meeting them in person and learning more about your clients should be among your objectives. Looking at it from a networking standpoint rather than a simple lead generation point of view will go a long way.
03. Develop a Marketing Strategy
Any successful business will tell you that every campaign, lead, and sale starts with a solid marketing strategy. It entails deciding which marketing channels to use to drive traffic to your website and generate leads. Social media, paid media, public relations, email marketing, and content marketing are some examples.
Keep in mind that not every channel will function perfectly in every company. Some companies prefer content creation because it is less expensive but has a lower sales conversion rate. Others, on the other hand, have chosen to spend money on paid advertisements to attract more customers.
This is why, before making any decisions, it is critical to understand your target audience. You must first determine what interests them, where they spend the majority of their online time, and when they are most active. A well-executed marketing strategy is important to the achievement of your B2B lead generation campaign.
04. Build an Effective Website
A website is the most important marketing tool used by all businesses because it serves as your visitor's first impression of your brand. Making a good first impression should be your top priority because it could be the beginning of your company's success. Make certain that your website not only assists you in achieving your objectives, but also addresses the issues, problems, and pain points of your customers.
If your website can be proven to be credible, trustworthy, and welcoming, it will undoubtedly do you more favors. It should include information about your company's history, goals, and founders, as well as your products and services. Aside from that, it should convey a clear message about what your brand is capable of doing right away through high-quality content such as blog posts, videos, and visualizations.
05. Make a Plan for Your Offer
Even great content, visuals, or tactics do not always guarantee repeat visits or potential leads. That is why, to capture your audience's attention, you must make an enticing offer that has real value to them. It could be a free eBook, webinar, or trial, which is typically prompted on your landing pages alongside a call-to-action.
Referral programs are another excellent idea that many businesses adopt. Because most people prefer to do business with people they know rather than strangers, offering incentives to existing customers in exchange for a positive review of your brand can help you generate more leads. You can also offer the same incentives to potential customers to double the number of prospects.
When they respond to your offer, it's the ideal time to direct them to your B2B lead generation campaign in the hopes of closing a deal. Tell them exactly what they will gain from your products and services and how it can solve their problems. However, keep in mind that your goal at this point is not to make a sale, but to collect contact information.
06. Produce an SEO-based Content
In today's B2B marketing, search engine optimization is extremely important. Because of the higher quality traffic, it drives to your website and simply improves your ranking, more businesses are shifting their focus to producing SEO-based content. Given that the vast majority of buyers conduct their searches online, this is an excellent opportunity for your brand to stand out.
The most effective way to use keywords is to identify the most popular search terms related to your products and services. You can use a variety of keyword research tools that focus on purchase-driven terms, such as Ahrefs Keywords Explorer, Google's Keyword Planner, and Bulk Keyword Generator. Then, incorporate these keywords into your content, as well as internal and backlinks, to increase traffic to your website.
07. Engage in Social Media
Being active on social media will assist you in obtaining more leads and sales. It has a significant impact on branding, providing businesses with a higher return on investment at a lower cost. Raising brand awareness, reaching out to potential customers, and driving traffic to websites all result in a better sales funnel when using various social media platforms.
With over 3 billion active users online, social media is an excellent way for your company to generate sales leads. All you have to do is post or share relevant content, interact with them, and respond to their comments and concerns as frequently as possible. This allows you to find people who are interested in your products and services that can be converted into loyal customers.
08. Make Eye-Catching Videos
Buyers watch videos about products and services they want to buy, according to B2B marketers. You increase your chances of attracting more potential customers when you create informative and attractive videos about your brand. It could be a brand history, a product or service review, how-to guides, FAQs, customer feedback, and more.
Since online marketing is a current trend, including videos in your content is highly effective. Videos can educate the audience, causing them to come to you rather than the other way around. It's also an excellent way to establish trust and relationships with prospects and customers.
09. Hold Online or Virtual Events
The number of online or virtual events increased last year as a result of the pandemic. The ability to hold events such as webinars is made possible by advanced technology and ongoing innovation. These events aided many businesses in connecting with their customers and attracting a larger audience.
One of the benefits of webinars is that you can obtain contact information from those who register to attend. In exchange, you provide your viewers with content that is relevant to their goals and pain points. The majority of B2B marketers have chosen virtual events as an effective B2B lead generation online marketing strategy.
10. Nurture your Leads
Once you've gathered leads, you should never stop engaging and nurturing them with relevant brand information. Even if they have already given you their contact information, keep pursuing them and gaining their trust. Continue to assist them in whatever way they require and provide an excellent buyer's journey.
When your prospects see that you are doing more than just making a sale, they are more likely to become loyal customers. Sending welcome emails, helpful content, solution comparisons, and other similar processes are some of the most common lead nurturing processes. Lead generation success involves a combination of hard work, dedication, and determination.
Conclusion
When developing a B2B lead generation campaign, there are numerous factors to consider. You can start small, but make sure you have a solid plan in place, including building your brand, creating useful content, and nurturing leads with necessary information. It may appear complicated, but once you've identified the right method for reaching your target audience, you'll be well on your way to a successful lead generation campaign.