B2B marketers are now moving from the use of traditional marketing and starting to practice account-based marketing or ABM. Instead of creating a wide range of content to attract every visitor possible, they are targeting their communications to gain qualified leads to begin the sales process. It prevents wasting time, effort, and money on marketing and attracting people who aren't suitable for your business. With a targeted approach you can educate, nurture, and sell your products and services effectively and efficiently.
Account-Based Marketing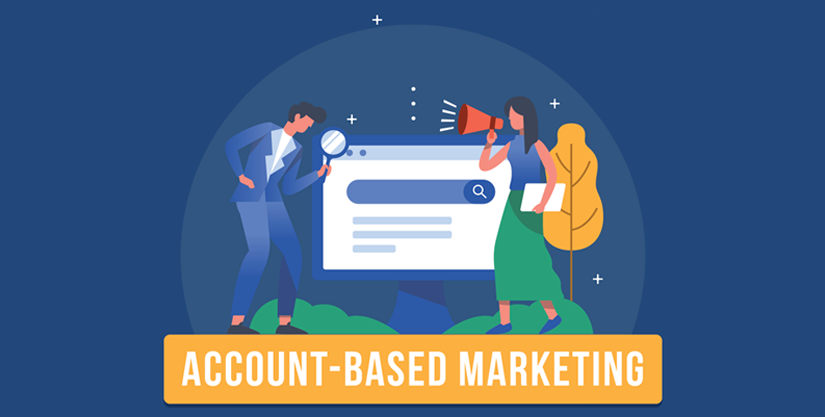 Account-based marketing is the process of aligning your marketing and sales teams to build long-term relationships with customers to maximize ROI and business growth. It uses highly customized campaigns to pitch your brand, content, and other marketing strategies to attract attention from particular accounts. ABM focuses on individual accounts that most likely acquire your products and services, contrary to traditional marketing that reach the audience as a whole.
This type of marketing eliminates the problems associated with inbound and outbound marketing in terms of obtaining a large number of high-quality leads. Aside from countless blog posts, customized emails, and social media campaigns, the system places a strong emphasis on personal outreach and relationship-building. To put it another way, instead of using a large net to catch all the fish in the sea, you can use a spear to catch the big ones.
Types of Account-Based Marketing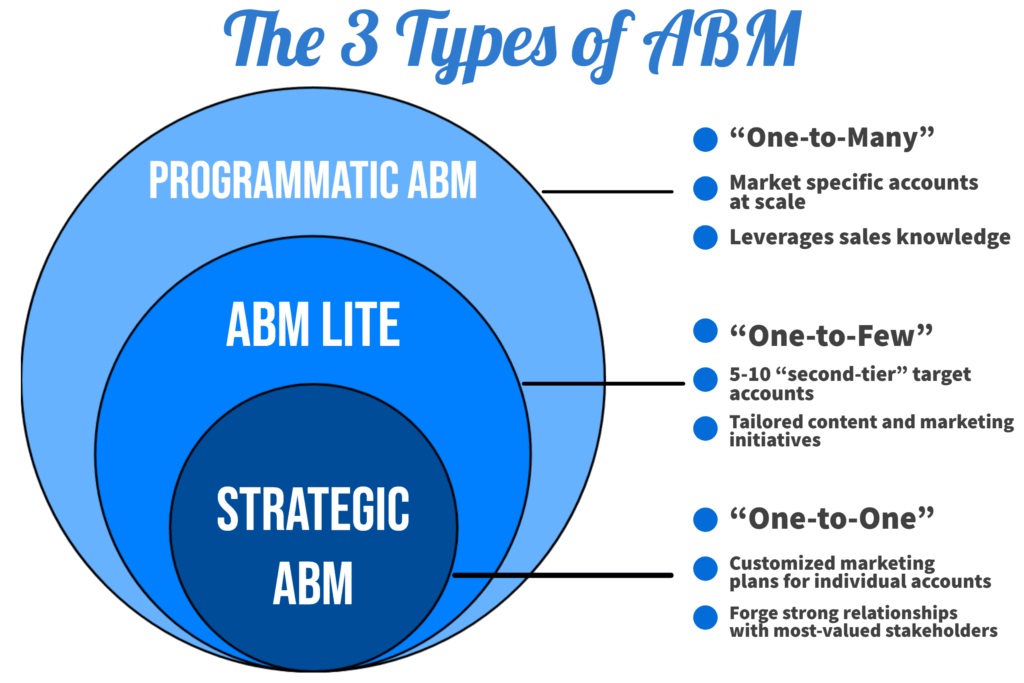 There are three types of account-based marketing, and each takes a unique approach to win over specific companies or businesses.
01. One-to-One or Strategic Account-based Marketing
This ABM strategy is intended for strategic accounts that are handled one-on-one. Its goal is to create highly personalized marketing plans for individual accounts while also educating them about the company and business. Strategic ABM is typically a connection between clients to establish a strong relationship with the most valuable prospects and customers.
02. One-to-Few or Account-based Marketing Lite
ABM lite focuses on creating programs that are lightly customized for a group of accounts that have similar goals and pain points. It is known as one-to-few because it is designed for 5 to 10 individual accounts. The highlights of the business, content, and campaign creation, and target accounts are the most common topics for this type of ABM.
03. One-to-Many or Programmatic Account-based Marketing
Programmatic ABM or one-to-many, as the name suggests, is the most recent marketing strategy to work for a wide range of accounts. It can target, analyze, and personalize hundreds or even thousands of individual accounts by leveraging technology. It shifts traditional marketing strategies to account-based lead generation, nurturing, and tracking.
Benefits of Account-Based Marketing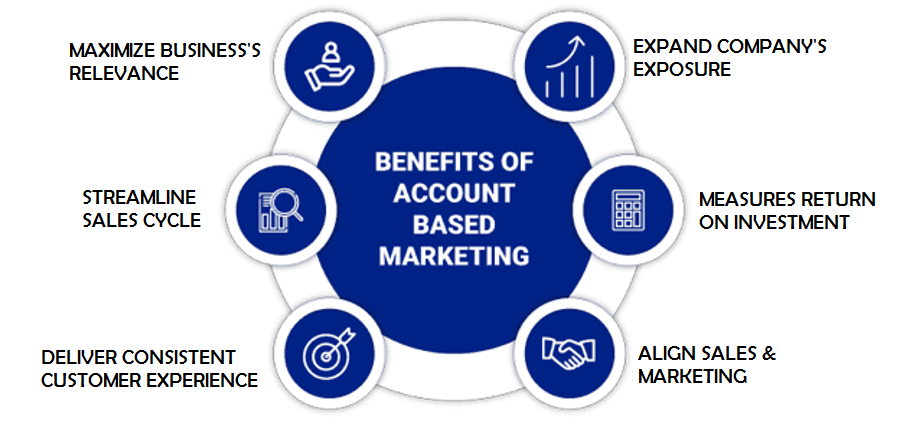 Shifting to account-based marketing can be very beneficial to your business, and here are some of the reasons why.
01. Align Sales and Marketing
Keeping a close eye on the entire team in your organization ensures successful career growth in the future. Everyone in your company must work together to achieve a common goal in terms of marketing or sales strategy. Transparency should be practiced within your organization to keep all communications and connections open.
02. Maximize the Business's Relevance
The benefit of account-based marketing is that it allows you to highlight your company's relevance and importance to your target accounts. You'll have a better chance of getting noticed and closing a deal if you tailor your content and campaigns to each account. However, make sure to mention how your products and services can help them solve their issues and problems.
03. Deliver Consistent Customer Experience
It's no secret that providing consistently excellent customer service is critical to your company's success. Keeping existing customers in your company is not a problem if you continuously educate and nurture them with relevant information as well as gifts, promotions, or incentives. Even though ABM is a long process, never lose sight of the importance of delighting your customers and demonstrating that your company is worthy of their trust.
04. Measures Return on Investment
With ABM, you can easily calculate your return on investment for each account. Identifying which accounts are highly beneficial to your company and ideal for your business to reduce wasted time and effort. If your ROI demonstrates that account-based marketing is effective, it will be easier to drive more leads and sales to your company.
05. Streamline Sales Cycle
The typical sales cycle begins with generating leads, connecting with them, closing the deal, and continuously nurturing them; however, account-based marketing focuses on identifying targeted individual accounts, presenting information to them, making sales, and delighting customers. ABM shortens your sales cycle, allowing you to avoid experimenting with various marketing strategies and tactics and instead focus on building relationships with potential customers. It ensures that your target accounts are high-quality leads with a high conversion rate.
06. Expand the Company's Exposure
Focusing on quality over quantity increases your chances of landing high-value accounts. You can increase your company's exposure to valuable people by personalizing the customer experience. Over time, these individuals can become loyal customers, assisting you in promoting your brand through referrals, word-of-mouth, testimonials, and other means.
Effective Account-Based Marketing Tactics

Developing an effective account-based marketing strategy leads to the success of your business; follow these steps to ensure that all of your hard work and efforts are rewarded.
01. Identify Target Accounts
Unlike traditional marketing, which begins by creating a variety of content aimed at a broad range of customers, ABM's strategy begins by identifying and selecting the best set of target accounts. This can be accomplished by searching customer profiles on LinkedIn, filtering high-quality leads based on your needs, and reviewing visitors who show interest in your business but have not yet contacted you. This method is an excellent way to ensure that your time, effort, and resources are not put to waste.
02. Secure Profile Accounts
At all costs, all accounts related to your marketing strategy must be secured. It includes all internal stakeholders, marketing and sales team members, account buying committee members, as well as your resources, goals, and KPIs. This makes it easier for your company to provide a consistent and satisfying customer experience each time.
03. Create Great Content
Crafting your content is still one of the best account-based marketing strategies for your company. Make sure that you're communicating the right message to the right people. To make your content more personalized, consider your target's goals, challenges, and pain points when creating it. Remember that buyers base their purchasing decisions on a variety of factors, and taking these into account will help you persuade your prospects to choose your products and services.
04. Launch Targeted Campaigns
Now that you've created the appropriate content for your target accounts, it's time to plan and launch your marketing campaigns. Your campaigns, like your content, should be unique for each account. However, it should contain relevant information such as solutions to their problems and other things they can expect from you. Even though most marketing is designed for online use, it should be used in a variety of marketing channels and situations to gain a better understanding of your prospects' interests and needs.
05. Measure & Analyze Results
When you've finished creating and implementing your content and campaign, it's critical to measure and analyze your results. You'll be able to see the parts that need improvements and changes if you monitor them regularly. This enables you to have effective account-based marketing, which will lead to the success of your business.
Top Account-Based Marketing Tools

Aside from marketing strategies and tactics, marketers enjoy using marketing tools such as the ones listed below.
01. Customer Relationship Management (CRM) Tools
Marketers require CRM software, as well as marketing automation and engagement tools. It aids in lead filtering, identifying potentially profitable customers, and learning about their behavior and preferences. There is a lot of great CRM software available that can help you improve your customer communication such as Zoho, Salesforce, and Pipedrive.
02. Marketing & Sales Intelligence Tools
Business needs a sales intelligence tool to ensure marketing success. This software assists sales representatives in gathering important information about prospects from a variety of sources. You can easily come up with different content, campaigns, and solutions to attract more customers from there.
03. Account-based Marketing (ABM) Tools
ABM software aligns marketing and sales teams based on the goals of your company. You will be able to tailor your marketing strategy, lead generation, and overall branding if you first identify high-quality accounts. Besides, this platform streamlines the sales process, freeing up time for the rest of your marketing strategy.
04. Messaging & Outreach Tools
There are numerous benefits to using outreach marketing to successfully engage with your potential customers. Although outreach marketing is time-consuming and expensive, it improves your SEO, promotes content, and encourages relationships with other businesses. Email, phone, and various social media platforms are some of the channels you can use to reach out.
05. Content Management System (CMS) Tools
A campaign that lacks strong and consistent content will not help you bring the right people for your company. A content management system (CMS) is a piece of software that allows you to create a website. It also manages content without the use of codes, programming, or even a developer. Using this app improves not only your content but your campaign as well.
Conclusion
Account-based marketing is a new strategy that ensures your company's success. You can identify valuable accounts more effectively and efficiently with the help of ABM tactics and tools. In addition, this type of marketing can increase your return on investment, allowing your company to grow more productively.